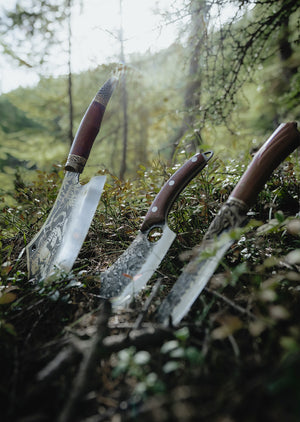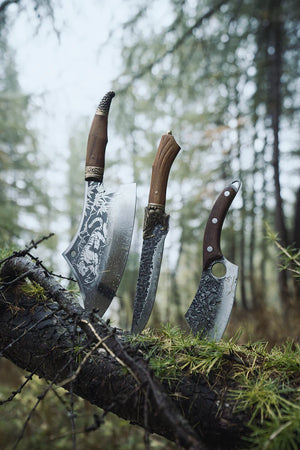 THE ULTIMATE COOKING KNIFE
"EXCELLENCE IS DOING ORDINARY THINGS EXTRAORDINARILY WELL"
Say goodbye to your old, dull kitchen knives because, from now on, your cooking experiences will never be the same. NorthernKnife has developed a unique formula to create the sharpest and most versatile knives on the market at an unbeatable price.
HOW ARE YOUR KNIVES MADE?
Developed hundreds of years ago and perfected over time, the technique used to manufacture your NorthernKnife is unique. The result of titanic manufacturing work, this technique has been passed down from generation to generation.
In steel, the percentage of carbon determines its hardness—more carbon results in a harder knife and a sharper blade, less carbon produces a more solid edge and flexible blade. Therefore, it is necessary to find the perfect combination to balance the steel's hardness (and, therefore, the sharpness of the blade) and the edge's solidity (and, therefore, the blade's flexibility).
 "THE PERFECT COMBINATION BETWEEN SHARPNESS, STURDINESS & HARDNESS"
Thus, our blacksmiths apply a strict and ultra-meticulous metal-stripping protocol. By creating two steel blocks and stretching them, the blacksmith draws out the impurities. This makes it possible to homogenize the carbon so that your knife lasts over time and obtain a perfect combination of the hardness of the steel and the solidity of the blade. This results in a very sharp, flexible knife that's solid at the same time.
---
This technique allows us to use higher-quality steel by removing impurities and homogenizing the carbon. Your knife is then assembled by hand to make it an actual work of art.
Thanks to this ultra-complex process, Northern's blades are sharper, more flexible, and more versatile than any other similar knives on the market.
DISCOVER OUR HAND-FORGED KNIVES View all
Northern's knives are handcrafted in our workshops and tested in the rigors of a professional kitchen to achieve resistance and durability, which is 40 to 60% higher than traditional brands.
Of course, you need to sharpen them regularly with suitable material to preserve their original nobility and sharpness.
Washing: Our knives are designed to be very easy to maintain. Just wash and dry them with a soft sponge or a cloth after each use, and you'll never have a problem.
Our only warning is not to put them in the dishwasher.
Sharpening: To maintain the edge of you knifes we recommend using a good quality sharpening steel regularly.
If you take good care of this knife and use it properly, it will serve you for a lifetime.
Northern's knives as well as some accessories are produced in limited edition (around 500 pieces). When these are sold-out you have therefore two possible options:
1) The product is definitely sold-out because it was a limited edition.
2) Our blacksmiths are in the process of forging new editions and your product will be on sale again in a few weeks (always according to the rate of production and demand).
* Note: We advise you not to wait until the product is practically sold-out to buy it. It can take several weeks to produce, and some will never be forged again to keep all the prestige of our limited collections. We encourage you to subscribe to our newsletter to be in touch to all Northern's new edition and restock.
We are so confident in our quality of knives that if one of them does not appeal to you for any reason, we will give you a full refund for your order with 0 Questions Asked. If you need any help, please contact our lovely team at contact@northernknife.com