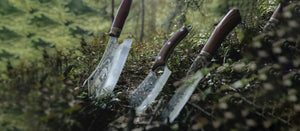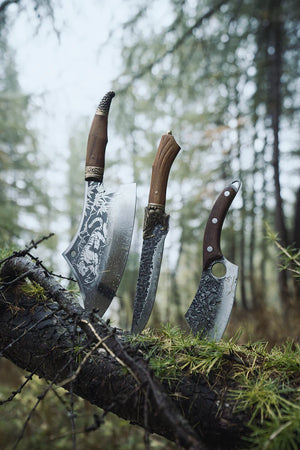 Try It, Love It, Share It. Earn Commission On Sales.
WE'RE PAYING IT FORWARD
Everything we do at Northern Knife is dedicated to achieving excellence by handcrafting knives inspired by the rich Viking tradition. Our mission is to create knives that enhance the cooking experience for men, whether it's preparing delicious meals, hosting BBQ gatherings with friends, or any culinary endeavor. By using our knives, you will discover a level of satisfaction that you've never experienced before.
JOIN THE CLAN
We value our community above all else, and we rely on their invaluable input for product development and brand engagement. We are now seeking enthusiastic and like-minded individuals who are passionate about social media and have a deep appreciation for our craft. As ambassadors of our brand, you will have the opportunity to spread the word about our exceptional knives and promote the joy of cooking with our products.
Join our team of content creators and unlock exciting opportunities to not only earn rewards but also receive complimentary northernknife products. Share your incredible product reviews, give social media shoutouts, and much more. If you're interested in becoming part of our passionate community, click the link below to access our application form! 👇
Step 01
COMPLETE THE FORM TO GET STARTED
Our internal team will review your application and notify you if you are approved via email.
STEP 02
RECEIVE OUR AMAZING KNIVES
Try it, love it, share it. You'll earn commission on all eligible sales made through yourexclusive affiliate link.
STEP 03
CREATE EXCITING CONTENT AND GET SELLING
Make stellar content promoting our brand, sharing your custom link to your following and community. For every purchase using your link, you get 15% commission. It's a win-win!
The Northern Knife Content Creator Program allows you to make money by referring customers to purchase any of our products.
You earn commission by placing links, banners and product reviews on your website, social media accounts, video channels or emails that direct buyers to the NorthernKnife' website.
Each time you refer a customer to us and that customer makes a purchase, you earn a commission. In every calendar month you will receive your commission payments via the payment option you select on your account.
STEP 1
Sign up to apply to be in our Content Creator program! Our internal team of Vikings will review your application and notify you of approval via email.
STEP 2
If your application has been approved, we will send your account info and ship out requested product! You are ready to go.
STEP 3
Start creating content. Share your reviews, growth, and feedback.
Don't forget to copy and paste your unique referral link! It's time to share it on your social pages with followers and friends.
STEP 4 
Time to start earning! You'll earn 15% commission of each sale whenever someone purchases through your link, whether that's by text links or banner ads. It's that easy!
Not to forget, your followers and friends also get 10% off for their purchase!
Simply fill out this application to sign-up. Once approved, you'll get a percentage of every sale you send us. 
It's absolutely free to join our Content Creator program. As long as you are an active and keep creating content, we will keep sending you products. All you need to do is keep linking to collect your commissions.
Yes! You only have to meet our monthly posting requirement.
Post one piece of unique content per product on social media every month based on your selected social media upon registration -- IG feed post, IGTV, YouTube video, or Blog post 
All content must be shared with us via Instagram DM once you've posted. You can attach a link of the post if you're posting from other social media.
Absolutely. We welcome applications to our Content Creator program from most countries.
Yes. You're welcome to promote Northern Knife across all of your websites. The more links and banners you place on your websites, the more qualified sales you're likely to send us and this should translate into a higher conversion.
Yes, your friends and followers will receive 10% off discounts when making a purchase through your own discount code and affiliate link.
Most blogs and websites qualify to participate in the affiliate program but we prefer sites that target our audience to ensure high quality conversions.
However, we reserve the right to refuse membership to a website or revoke your membership at any time, if we determine that your website contains objectionable material.
You are responsible to update creatives on your site once offers expire and to promote NorthernKnife in a respectable manner.
All NorthernKnife affiliates must abide by the terms and conditions of the Program Agreement.
If you have any questions or concerns about the affiliate program send us an email at contact@northernknife.com. We will get back to you within 24 hours.
No. You only earn commission on the net price of the product after discounts are applied and not on the tax and shipping cost.
No limits. There is no cap on your commission earnings. We can help if you need something specific to promote Northern Knife, but your profit potential completely depends on your sales. Our standard commission rate is 15% for every sale you make.
You will receive an email notification for each order made with your affiliate code. At the end of each week, we will check your account status. If you have made any sales during that week, your commission fees will be automatically sent to you via PayPal.
At the end of each month, you will receive all the commissions you earned from sales during that week via PayPal or your selected payment option you choose.
If a user returns a product for a refund, or if credit card charges are reversed due to a dispute or credit card fraud, your account will be debited for any commission earned on that transaction.
Northernknife handles all order processing and customer service for the customers that you refer to our sites. All you have to do is place links on your site.